VPS Philippines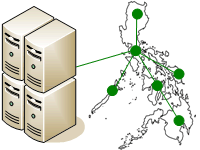 Web.com.ph provides affordable Virtual Private Servers (VPS) or Virtual Machines utilizing KVM and OpenVZ virtualization in the Philippines.
More importantly, the host servers are located in Philippine data centers for low latency and data sovereignty.
The IP provided is geolocated in the Philippines - excellent for SEO purposes and location based services.
Plans
VPS1
VPS2
VPS3
VPS4
vCPU
Single(1)
Dual(2)
Quad(4)
Octo(8)
vMemory
1 GB
2 GB
4 GB
8 GB
vDisk SSD
24 GB
48 GB
96 GB
192 GB
Bandwidth
100 GB
200 GB
1000 GB
2000 GB
Distros or
Operating Sytem
Linux CentOS, Debian, Ubuntu
Windows Server 2008/2012 (license not included)
Monthly Fee
Php 2,500
Order
Php 5,000
Order
Php 10,000
Order
Php 15,000
Order
We accept credit cards and bank deposit payments.